PROVIDING FREE of charge plastic MOVING BOXES IN VANCOUVER
As one of the essential moving supplies, some people look for rental moving boxes. With Metro Vancouver Movers, you do not need to rent plastic moving boxes; because we provide them free of charge.
There is no fee for this service if your minimum time meets our price and payment rules.
Proper packing with same size boxes
Easy packing inside trucks and use the truck space efficiently.
These reusable plastic boxes minimize the usage of other shipping supplies such as packing paper and packing tape.
Carrying plastic storage boxes with hand trucks and dollies and minimize the moving time
The heavy-duty plastic moving totes protect fragile house hold items more efficiently.
easy to collapse
The plastic boxes are sturdy, and they are not easy to collapse and cause damage
When you pack your rounded, irregular, or uneven-shaped things, they become regular and manageable using plastic boxes. A vase, for instance, can be circular or bulky. Once boxed, it becomes a regular-shaped object that can be stacked safely.
On rainy days, which is usual in Vancouver, plastic boxes stay intact compared to cardboard boxes.
Plastic moving crates keep your move clean and tidy, not the cardboard boxes, though.
The cardboard boxes are not as strong as the plastic ones. Therefore, you need to pay more for packing material such as paper and bubble wrap, moving tapes, etc.
What do Pro movers say?
Pro movers load the trucks like regular-shaped objects for reasons.
They can load them neatly into their trucks; and
Movers know that nothing will be shaking or jolting inside the truck when the trucks are on the street.
They use all the space inside the truck efficiently. Imagine yourself driving your car while having something shaking in your vehicle trunk. How do you feel about the noise?
The movers cannot stack the cardboard boxes as efficiently as plastic boxes, either on dollies or inside the truck.
Regularly, depending on the size of the moving service, you need to spend almost 250.00 - 850.00; regardless you buy or rent. You can easily save that cost when moving with Metro Vancouver Movers.
You should not be worried about any charges or a rental period as you have with other rental moving boxes companies.
Our delivery service for boxes is also free. Therefore, at the delivery time, the free moving boxes to your place, you can ask our associate to bring you all other moving supplies like bubble wrap or wrapping paper at a very low price.
Now, you call Metro Vancouver Movers; all your moving supplies including your free moving boxes, will arrive within less than 24 hours.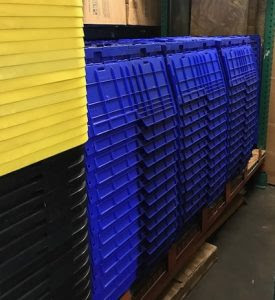 We will drop off the reusable packing boxes at your place in Metro Vancouver or Fraser Valley 10 – 12 days before your actual moving day and receive the deposit fee.
Our moving company will move you to your moving date.
We will pick our efficient stack-able plastic moving boxes at your new place within 12 days. after your moving date. We will return your deposit fee.
As you see, we do not provide free moving boxes to the cities such as Victoria, Nanaimo, Kelowna, Kamloops, or other towns far from the Vancouver area. However, we cover Vancouver, Burnaby, and North Vancouver and the other regions such as following
Chilliwack, Mission and Abbotsford

Surrey, White Rock and Langley

Port Coquitlam, Coquitlam and Port Moody (Anmore and Belcarra)

Maple Ridge, and Pitt Meadows,

Richmond, Delta (Tsawwassen, Ladner) and New Westminster

Burnaby, UBC, Vancouver and North Vancouver

West Vancouver, Horseshoe Bay, and Squamish.
For more information about our minimum time in these cities, you can see our page, price and payment.
The answer is yes. When our clients return the plastic boxes, we pressure wash them with soap and sanitizers. Also, we sense them with hot pressure water.
After 2019 that COVID-19 was a global problem, we washed and sanitized the boxes and left them in a ventilated area for 5-6 days before serving the next client.
20 x 14 x 10 inches …………….45-liter…………………… 1.6 cubic ft
22 x 16 x 11 inches…………..… 64-litre………………….. 2.3 cubic ft
25 x 18 x 14 inches…………….. 102-litre……………….. 3.6 cubic ft
One-bedroom ……………………………….. 20 – 30
Small (45-litre) ………………………………… 6 – 10
Medium (64-litre)……………………………. 7 – 10
Large (102-litre) ……………………………… 7 – 10
_____________________________
Two-bedroom ……………………………….. 30 – 45
Small (45-litre) ……………………………….. 10 – 15
Medium (64-litre)……………………………. 10 – 15
Large (102-litre) ……………………………… 10 – 15
_____________________________
Three-bedroom……………………………….. 45 – 60
Small (45-litre) …………………………………. 15 – 20
Medium (64-litre)……………………………… 15 – 20
Large (102-litre) ……………………………….. 15 – 20
________________________________
4-5 bedroom …………………………………… 60 – 90
Small (45-litre) …………………………………. 20 – 25
Medium (64-litre)……………………………… 20 – 30
Large (102-litre) ……………………………….. 20 – 35